The road to Germany and Euro 2024 continues this month. Here's the state of play during the latest set of matches, with England the latest team to qualify.
England join Scotland at Euro 2024
England have secured qualification for next summer's tournament courtesy of their win over Italy at Wembley.
Scotland claimed their place at the weekend when Spain beat Norway.
Who qualifies for Euro 2024?
Two teams – the group winners and runners-up – will qualify automatically from each of the 10 groups.
Three teams will then qualify via the play-offs, which will be contested by 12 teams selected on the basis of their performance in the most recent Nations League.
Germany, as hosts, automatically qualify to be one of the 24 nations in action at next summer's tournament.
Who has already qualified for Euro 2024?
State of play
Group A
Scotland and Spain have both qualified for the finals, but top spot remains up for grabs.
Spain head to Cyprus and then host Georgia, while Scotland face a trip to Tbilisi before welcoming Norway to Hampden Park – where the Tartan Army are expected to revel in a Euro 2024 qualification party.
Georgia are set to go into the play-offs based on their Nations League ranking as a group winner.
Norway are one of several countries who will have to wait on all the other results to see if they can make the cut as one of 12 teams split through three paths.
Group B
While France have qualified automatically for the finals as group winners, the Netherlands still have work to do.
The Dutch edged past Greece with a stoppage-time penalty from captain Virgil van Dijk on Monday night – and victory over the Republic of Ireland in Amsterdam will secure a top-two finish.
Greece, though, could also still reach Euro 2024, having already been assured of a place in the play-offs.
Indeed because of UEFA's complex weighted system based on overall Nations League rankings, the Republic are still not theoretically out of the running to be involved in the play-offs in March – and could even see their slim hopes boosted by a loss in Amsterdam on November 18 if other results also fall into place.
Group C
England's 3-1 win over Italy at Wembley on Tuesday night saw them qualify with two matches left.
Italy are third, but qualification remains in their own hands if they can beat North Macedonia.
The Azzurri would then edge out Ukraine to the runners-up spot should they go on to avoid defeat in the final group game between the two countries in Leverkusen on November 20.
Italy are also assured of place in the play-offs should it be needed.
Group D
Turkey have secured qualification, but the race to join them looks set to go to the wire.
Wales will if they beat Armenia in Yerevan and Croatia suffer an unexpected defeat away to Latvia.
Armenia, though, are still not out of the mix, sitting just three points behind Wales and Croatia with two games left.
Qualification could all hinge on the very last round of fixtures – which sees Wales host Turkey in Cardiff and Croatia play Armenia in Zagreb on November 21.
However, Croatia are assured of at least a play-off spot if they do not qualify automatically.
Group E
In another tight group, leaders Albania, the Czech Republic, Poland and even Moldova can all still qualify.
Albania will qualify if they avoid defeat by Moldova in their next match or if Poland – currently third and with just one game left – beat the Czechs.
An away win in Warsaw, though, would see the Czech Republic qualify if Moldova do not beat Albania.
Moldova have two games left, which they realistically would need to win to keep in the qualification mix.
Despite being bottom of the table with just one point from seven games, the Faroe Islands could yet find themselves in the play-offs depending on other results.
Group F
Austria and group leaders Belgium have both qualified.
Belgium's game against Sweden at the King Baudouin Stadium on Monday night was abandoned at half-time after two people were shot dead in Brussels. It has yet to be confirmed whether the fixture will be replayed.
Azerbaijan are not theoretically out of play-off contention, while bottom side Estonia are the top-ranked team from Nations League Group D.
Group G
Leaders Hungary – who have Barnsley midfielder Callum Styles in the squad – missed the chance to qualify after having to recover to draw 2-2 in Lithuania.
However, a point in their next match away to Bulgaria would see them through, as would Montenegro not beating Lithuania.
Second-placed Serbia will qualify if Montenegro fail to win on November 16 or they themselves beat Bulgaria in their last game.
Bottom side Bulgaria have slim play-off hopes, but Serbia are secured a spot if they need it as one of the Nations League group winners.
Group H
Slovenia, who beat Northern Ireland in Belfast on Tuesday night, and Denmark are in the driving seat to qualify, sitting four points clear of Kazakhstan.
A win in Copenhagen for either team on November 17 would see them through, as would San Marino getting an unlikely positive result against Kazakhstan.
Finland will go into the play-offs, which is also the likely route for Kazakhstan.
Group I
Switzerland's fightback with two late goals to draw 3-3 against Belarus left them second in the table, a point behind leaders Romania having played a game less.
Israel – assured of at least a play-off spot – are four points adrift, and have their rearranged match with the Swiss on November 15.
Switzerland will qualify if they win their next two fixtures, while Romania will if the Swiss lose in Tel Aviv and they themselves then beat Israel on November 18.
Romania are set to host Switzerland in the final round of fixtures, while Israel's postponed match against Kosovo has still to be rescheduled.
Group J
Portugal qualified for the finals as runaway group winners with a 100 per cent record so far through eight games.
Slovakia will also qualify with a match to spare if they avoid defeat against Iceland.
Luxembourg are five points behind, so look likely to go into the play-offs along with Bosnia and Herzegovina.
What about the play-offs?
The 12 teams who won their Nations League groups will qualify for the play-offs. However, if any of these teams reach the finals via their qualifying group, their play-off spot will go to the next highest-placed side in their Nations League group that has not qualified for the Euros.
The Nations League is divided into four leagues, named A to D. There are four individual groups within leagues A to C and two groups within league D.
The play-offs will be divided into three paths of four teams, with single-leg semi-finals and a single-leg final, meaning one team from each path will reach the finals.
If fewer than four teams from one league enter the play-offs, the first available slot will be allocated to Estonia, the highest-ranked league D group winner who will not reach the Euros via the qualifiers.
If four teams from a league within the Nations League make the play-offs, they will be placed into the same play-off path.
If there are more than four teams from a league in the play-offs, a draw will determine which teams participate in that league's path, while the remaining teams will enter the path of a higher league. However, group winners from leagues B and C in the Nations League cannot be placed into the path of a higher league.
If there are fewer than four teams from a league entering the play-offs, the requisite number of teams from a lower path will enter the higher league's path.
The results from the 2022/23 Nations League will be used for the play-offs, with the draw taking place in November. The play-off semi-finals and finals will be played between March 21 and 26, 2024.
When is the tournament?
The final tournament draw will take place on Saturday December 2.
The teams will be seeded in accordance with the overall European Qualifiers rankings. Germany will be automatically seeded into pot 1 as hosts, and placed in position A1.
The three play-off winners will not be known at the time of the draw but will be placed into pot 4 for the draw.
The opening game of Euro 2024 is June 14 with the final taking place on July 14 at the Olympiastadion, Berlin.
How can I buy tickets?
Ticket applications for Euro 2024 opened on October 3 through the tournament's official website. The initial window closes on October 26, with fans then contacted if they have been successful.
There will be other opportunities to buy tickets as teams confirm their places at the tournament, including through the play-offs next year. There will also be a resale platform that opens in Spring 2024.
UEFA have said that more than 80 per cent of the 2.7 million tickets available will be for the fans of the participating teams and the general public.
Group stage prices range from €30 to €200, increasing in price with each round. Tickets for the final range from €95 to €1,000.
Where are the venues?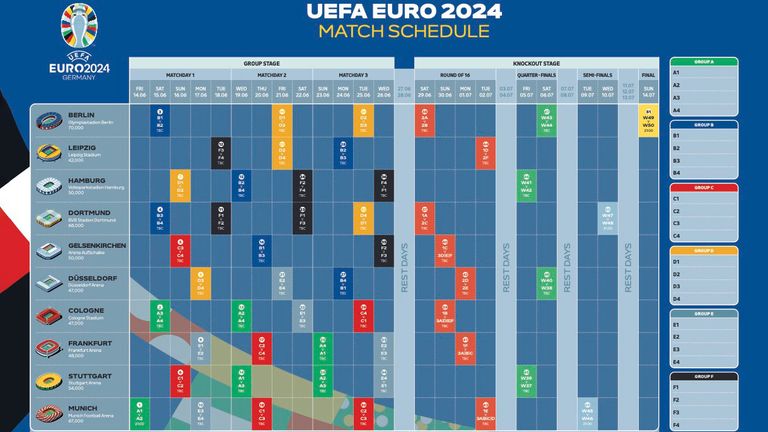 Euro 2024: All you need to know
The countdown to Euro 2024 is well under way, with qualifying for the tournament reaching its conclusion.
With 10 host cities, key dates as well as information on the group stage draw, Sky Sports has all you need to know on the upcoming tournament.