Cycling and motoring chain Halfords is telling motorists they may be paying "over the odds for repairs" and they should use its services with no fear of affecting their car's manufacturer warranty.
In a direct attack on franchised dealerships Halfords has launched a marketing campaign called Dealer or No Dealer, and is highlighting that cheaper repairs with manufacturer verified parts that do not impact warranties are available.
Chief executive Graham Stapleford said: "We're continuing to do everything that we can to support our customers through the cost-of-living crisis and are determined to offer them unrivalled value. For instance, our research shows that motorists who use manufacturers' franchised dealerships can pay over 50% more for repairs compared with Halfords.
With the average cost of car ownership pushing £300 a month, the last thing hard pressed motorists need, is to pay over the odds for repairs.
"That's why we're launching a campaign called Dealer or No Dealer, designed to raise motorists' awareness of the choice and cost savings available to them for servicing and repairs, and that any work carried out by Halfords will not affect their manufacturer warranty."
The group is also enabling customers in its garages to pay for their repairs with a 15% pay now and the rest in 2024, interest free, through Payment Assist.
In a trading update last week Stapleford (pictured above) revealed that 75% of Halfords total sales now comes from its motoring division and it is progressing its long-term plan "to become a one-stop-shop for motoring ownership".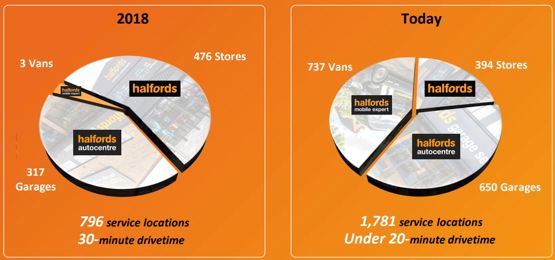 Revenues at Halfords Autocentres rose 16.6% year-on-year and, following its acquisitions of Universal Tyre and Autocare, National Tyres and Autocare and Lodge Tyre, the commercial fleet service business has won a significant nationwide contract with Yodel to maintain its van and truck fleet.
He said its motoring loyalty club has now reached 2.5 million members, and its data shows these shop more frequently and spend more than non club members.
Currently it offers club premium members a free MOT test and discounts.