Gary Neville feels Manchester United's poor start to the season comes down to a lack of quality rather than a lack of commitment and says their summer signings have not improved them.
Erik ten Hag's side suffered a 3-1 home defeat to Brighton on Saturday, leaving them in 13th place in the Premier League table having only taken six points from their opening five games.
Neville described the loss to Brighton as "sobering" but insisted it came as no surprise to him given the difference in performance levels between Roberto De Zerbi's side and Ten Hag's.
United spent £183.5m on new recruits in the summer, bringing in Rasmus Hojlund, Andre Onana, Mason Mount, Sofyan Amrabat, Sergio Reguilon, Jonny Evans and Altay Bayindir, but Neville feels they haven't raised the level of the team.
'Man Utd needed a Kane or Rice-type signing'
"I was worried at the start of the season," said the Sky Sports pundit on the latest Gary Neville Podcast.
There was this feeling Manchester United had got their business done early in the transfer window and that was good, but I was concerned the players they had brought in wouldn't improve them from last season.
"I never thought for one second they would challenge Manchester City and Arsenal from the players that they brought in.
"That would have needed a Harry Kane-type signing or Declan Rice, as an example. They didn't have the money to do those types of signings.
FREE TO WATCH: Highlights from the Premier League match between Manchester United and Brighton

"They're not very good at the moment. There's no hysteria. I went to the Brighton game as a fan thinking, 'Could I be surprised?'.
"You're always optimistic. I have never walked over that forecourt at Old Trafford and not been optimistic because that's the job of a football fan going to any ground where you support your team.
"But 72,000 Manchester United fans in that stadium, who are informed and know Brighton and know their current team, I don't think any of them were surprised at what they saw.
"Before the game there was that feeling of, 'Let's see what happens', 'Take a point', those sort of comments speaking to people as you go in."
'Brighton dismantled ordinary Man Utd'
Gary Neville breaks down Manchester United's 3-1 defeat to Brighton at Old Trafford and says the Seagulls 'dismantled' Erik ten Hag's side

Neville felt Brighton boss De Zerbi outthought Ten Hag in the tactical battle at Old Trafford.
"Manchester United started brightly in that first 10, 15 minutes but the moment Brighton started composing themselves, the centre-backs get on the ball with their goalkeeper and pop a few passes into midfield, they dismantled Manchester United by doing what Brighton do," he said.
"[Danny] Welbeck and [Adam] Lallana dropping into pockets, the two wide players being high, [Lisandro] Martinez and [Victor] Lindelof being caught in no man's land at times.
"We quite often say that football players win football matches, it's the most obvious thing to say, and that systems don't win matches. I'm sorry, systems do have an impact on matches.
"There's this thing at Old Trafford: dugout side, there's no space. On the far side, you have acres of space away from the dugout. The space in the game is always for the opposition on the other side of the pitch. I don't know why that is, it's always happened at Old Trafford.
Rasmus Hojlund looked to have scored his first goal for Manchester United against Brighton but it was disallowed by VAR after the ball went out of play

"I was sat on the opposite side of the pitch. In the first half, [Christian] Eriksen was being asked to get out to Brighton's right-back and right-hand side with [Sergio] Reguilon. That's where the first goal game from. Eriksen had to get out there because he was playing in a diamond.
"In the second half, [Scott] McTominay is over on this side and he was legless at times.
"I was watching those lads very closely. This wasn't a massive lack of effort or players chucking the towel in, they were trying their very best, but McTominay couldn't get out to their left side in the second half and that's where the two goals came from.
"I was surprised they kept a narrow midfield and didn't have a 4-3-3 or 4-5-1 because Manchester United's pitch always feels massive in the wide areas, it always has done.
"Brighton have got the system of play and the players to be able to dismantle you and find the spare pass.
"I always used to think at Old Trafford, 'Don't give the opposition an easy out'. They had an easy out yesterday and they dismantled Manchester United and made them look quite ordinary at times.
"It was a worrying, concerning day in that Brighton were better than Manchester United. They were fantastic with a group of players that on paper aren't as sexy, as valuable but they were the better team."
'Sancho, Maguire situations unhelpful'
Gary Neville insists Man Utd are not yet in 'crisis' but admits drastic improvement is required

Neville added that Ten Hag's hardline approach to discipline may be causing problems in the dressing room, with Jadon Sancho currently frozen out having refused to apologise for his social media comments and Harry Maguire losing the captaincy.
"[Ten Hag] will continue to keep doing what he is doing, which is following his beliefs, his values, his principles," said Neville.
"The only thing I would say is, how popular is Sancho in the dressing room?
"How popular is Maguire in the dressing room?
"This discomfort and uncertainty is being created on the inside. You have got a player at the moment, who is probably changing in the first-team dressing room but is obviously over with the academy.
"You have got Harry Maguire, who was captain of these players 12 months ago by the way, who is now almost in some ways alienated and is now third, fourth, fifth-choice centre-half.
"So, he's got some situations in there and I don't know the damage that they are having.
"But in terms of his work on the pitch, I don't think Erik ten Hag will change, and the fact of the matter is that there are many a manager, good managers, over the last 10 or 12 years since Sir Alex Ferguson left that have found challenges at Manchester United."
'Man Utd suffering by letting managers dictate recruitment'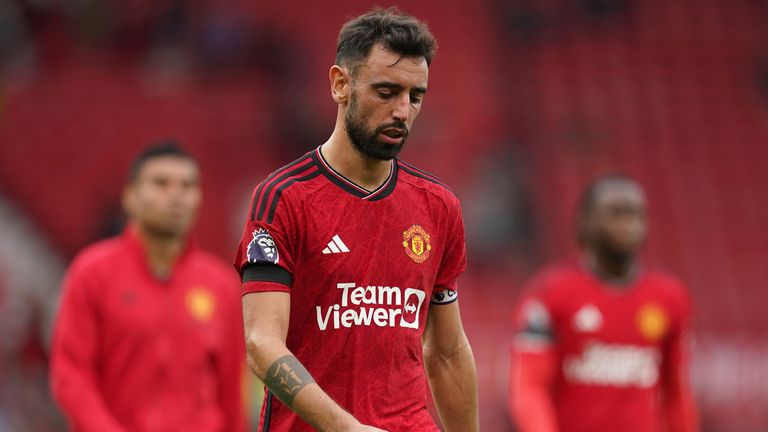 Neville continued: "What I am hoping at the moment is that this is just a difficult start to the season and it's not a repeat of what we have seen previously, where it became challenging for [Jose] Mourinho, for [Louis] Van Gaal, for [David] Moyes, and obviously for [Ralf] Rangnick and Ole Gunnar Solskjaer.
"So, I hope that this is not the beginning of that.
"There is no Manchester United fan I know, that has got a brain, that is most angry with Erik ten Hag. What they want really is a change of ownership and they want stability and they want a group of players that are committed.
"And I don't think the players aren't committed. I just wonder how good they are. That is my concern.
"The club has been pulled from pillar to post over this last 10 or 11 years from a sporting point of view because of their manager's wishes on recruitment. And it's happened again.
"They are Erik ten Hag's players, those are the ones he wanted, Jose brought in the lads that he wanted, like Lukaku and Pogba and those lads, and Van Gaal went for a very technical type of player, loads of left-footed centre backs and left-backs and stuff like that.
"They have all brought in who they wanted to bring in. I thought this time there would be a stronger sporting project behind the scenes that would enable Manchester United to bring in a group of players.
"But Manchester United have again allowed the manager to influence the signings and that is my concern with the club. They have got no strength at the very top.
Ben Ransom and Charlotte Marsh reflect on Manchester United's defeat to Brighton at Old Trafford

"If you are talking about the best sporting operators in this country and in Europe, Manchester United don't have them, they just don't and that is my concern.
"Look, there is no hysteria, we are where we are but [the Brighton game] was a sobering day and I don't think many people were surprised by it.
"They go to Munich in midweek and then an awkward one at Burnley on Saturday night. Munich, you would fear the worst for them a little bit, but you never know. There are players there that can step up.
"But the amount of money Manchester United have spent on that squad, it should have been a lot better. They've signed Onana, Hojlund and Mount.
"Does that make them better than what they were? Hojlund has got promise, but I feel for him a little bit. He has been asked to carry the whole of the team in some ways.
"Let's see what happens but there are concerns, definitely, and concerns from the fans and concerns generally within the club. It doesn't look right at this moment in time and it needs to stabilise."