Under-fire Wales boss Rob Page says he is determined to see out the remaining three years of his contract.
Page signed a four-year deal exactly 12 months ago as Wales prepared to make their first appearance at a World Cup for 64 years. But their fortunes have plummeted since and Page faces a potentially make-or-break Euro 2024 qualifier in Latvia on Monday.
Wales must beat bottom side Latvia – who are yet to register a point in Group D – to keep alive hopes of a top-two place and automatic qualification for next summer's finals in Germany.
Asked at his pre-match press conference whether he was under pressure from the Football Association of Wales executive to qualify, Page said: "I can't let that affect me. I can't think about that. I've got a job to do. I want to qualify for me, as a Welsh supporter myself.
"As the manager, I want to be in this job for the rest of my contract. I really enjoy working with this group of players."
Pressed further on whether he was fighting for his job, Page replied: "We are in an industry where you need to win games of football.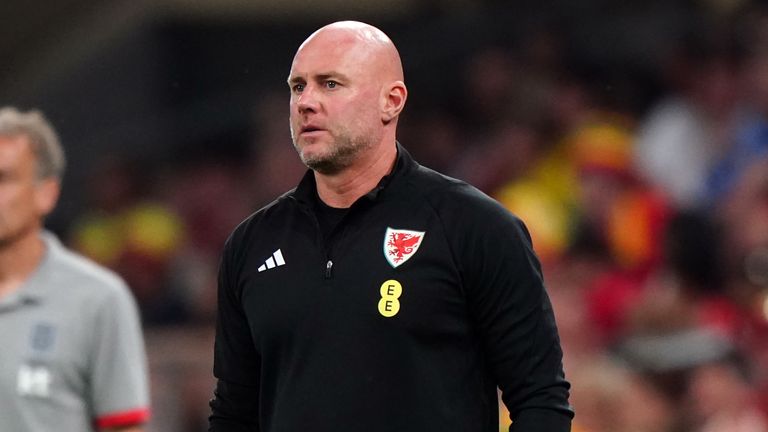 "We are in a period of transition as well. I can't influence what the board or people above do.
"All I can worry about is winning games of football and giving it my best shot. If I do that and it doesn't work out for me, then at least I can walk away with my head held high."
Wales warmed up for their trip to Latvia with a goalless draw against South Korea on Thursday.
Wales' Euro 2024 hopes hang in the balance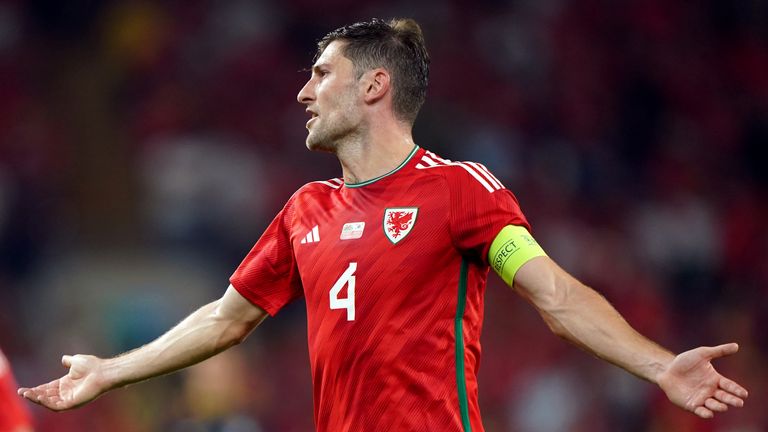 Page said he saw plenty of positive signs during that Cardiff clash and Wales were further boosted by Friday's set of results in their qualifying section.
Group favourites Croatia left Latvia dispirited with a 5-0 thrashing, while Turkey and Armenia drew 1-1.
Wales would draw level on points with Armenia if they win in Riga and Croatia do likewise in Yerevan – and move within three points of Turkey with a game in hand.
"(Turkey and Armenia drawing) was probably the best result for us," Page said. "It would be nice for Croatia to get another win for them to run away with it and have us fighting it out for second spot.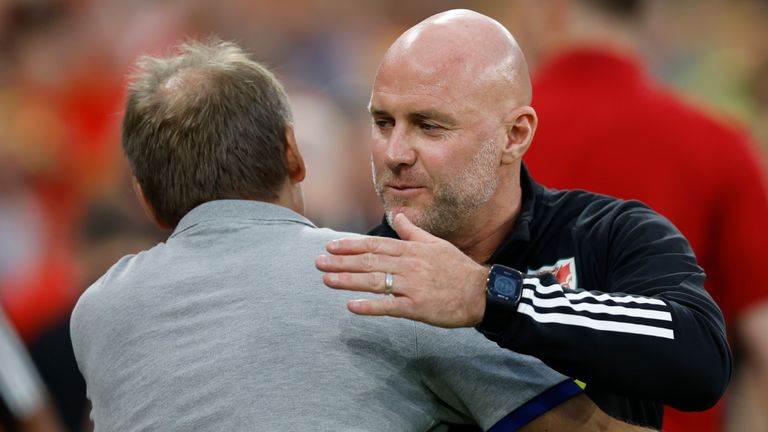 "We want to win the game. It's all about the points for us. It doesn't matter if it's 1-0. They are off the back of a tough game but they have been in games right up until the 90th minute.
"We can't wait for it off the back of a positive performance against Korea. I didn't want the game because I didn't want to risk injuries and we've picked up an injury from that game as Wes (Burns) came on and he tweaked his hamstring.
"There is a generation of supporters who have seen Wales qualify for major tournaments. Losing players makes the job harder, but expectations say that we should be qualifying.
"It's not as easy as that. We will continue to try and qualify for every tournament."
Hennessey, Burns withdraw from Wales squad
Goalkeeper Wayne Hennessey and wing-back Wes Burns have withdrawn from the Wales squad to play Latvia on Monday.
A post on the official Wales Twitter account said: "Wayne Hennessey and Wes Burns will not be travelling with the squad to Latvia due to injuries."
Joe Morrell and Kieffer Moore are already suspended for a game Wales need to win to keep alive hopes of automatic qualification for next summer's Euro 2024 finals in Germany.
Analysis: 'Beating Latvia would relieve some pressure'
Sky Sports News senior reporter Geraint Hughes:
Simply put Wales must beat Latvia. They have to win and the reasons are many.
For Wales to remain in contention for automatic qualification for Euro 2024, victory over Latvia is essential. They have to keep within reach of Croatia and Turkey. For Page, his position as manager of Wales has never been questioned like it is now.
After taking the reigns in difficult circumstances when Ryan Giggs stepped down as the Wales manager in 2020, Page handled the situation flawlessly. He also guided Wales through that Euro Qualifying campaign and then to the knockout stages of Euro 2020 and of course the emotional journey to the World Cup in Qatar last year.
Mutterings of disquiet began among some fans during the World Cup. It was born of a frustration that Wales didn't do themselves justice at the World Cup having waited 64 years to get to one. Bar the second-half performance against the USA, Wales weren't at the races.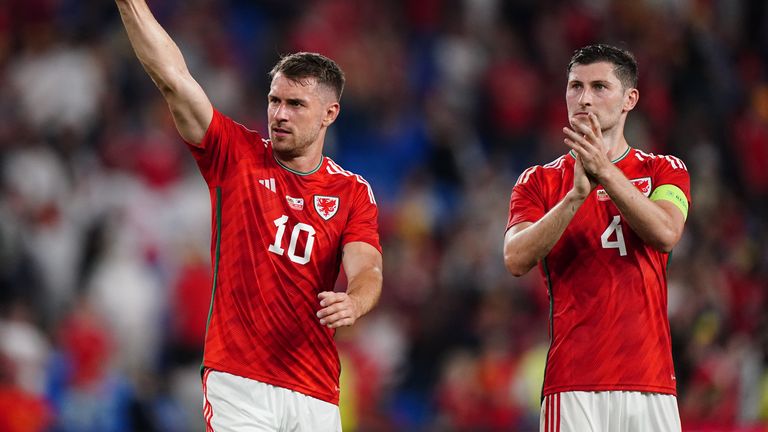 A great result away in Croatia at the start of Euro 2024 qualifying in March this year was a perfect tonic, but you can't hide the fact that goals have been hard to come by. With no Gareth Bale anymore it was always going to be a huge void to fill. A defensive meltdown against Armenia plus a defeat in Turkey placed Wales in an unusual position in qualifying in recent campaigns of not either being top or second in the table. So success brings expectation, when expectations don't meet reality you get the situation Wales are in now – pressure. And lots of it!
Wales have been in camp for this international break for over a week now, so plenty of time to work on the training ground, but also plenty of time for the focus on Wales, Page and their ailing Euro 2024 campaign. You feel the past week has been like the proverbial pressure cooker for Page. More and more focus on him. More and more questions about his future as manager. Have the players got his back? Is there pressure from the CEO and board? This pressure happens in football, but when you're right in the middle of it you can see it could become suffocating.
Beating Latvia would relieve some of the pressure. That cooker lid would be lifted slightly to the side, but not fully off. Page also needs a performance of dominance against Latvia and preferably one with goals, not one goal, but two or three and a clean sheet. Where can those goals come from? Well, not from Gareth Bale as we know! Time to see what Tottenham have invested so heavily in – how can Wales unleash Brennan Johnson? Whether that's through Aaron Ramsey or whoever, getting Johnson scoring would be a stress reliever for Page.
The flip side for Wales in Latvia is one where Wales don't have control and don't win 2-0 or 3-0. A draw or even dare I say it a defeat would end Wales' automatic hopes of qualifying for Euro 2024. A backdoor route through play-offs does currently remain an option.
However, anything but a win would place Page's role in charge in serious jeopardy and also place some pressure on the FAW chief executive Noel Mooney. Does he continue to back Page as he rebuilds a side in transition post-Gareth Bale? Or does he choose another direction?
Latvia boss hoping Wales' need for points could help his side in Riga
Latvia boss Dainis Kazakevics believes Wales' need to kick-start their Euro 2024 campaign could help his side end their wait for points in Group D.
Wales cannot afford to drop points in Riga on Monday if they are to make up for June defeats to Armenia and Turkey and muscle their way back into the qualifying picture.
But Kazakevics – whose side are bottom of the group after losing four games – said: "It is clear the current situation in the standings has to be considered.
"We understand the position that the Wales team is in and it can influence our preparation and strategy for the game. It might help us."